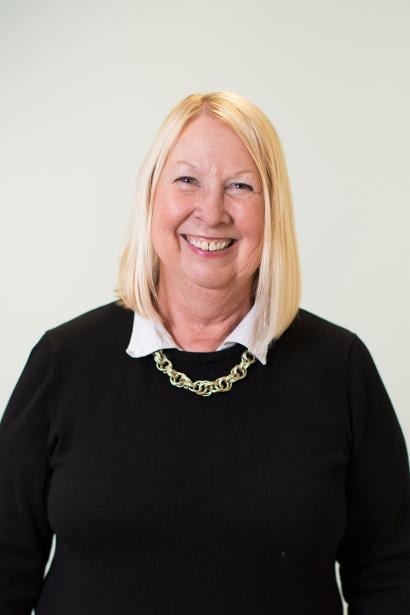 Executive Director Laurie Morelli has devoted more than 40 years working in early education with young children and their families. She has served in this role since the Center opened in 1986 as a progressive work-site state model early education program under the leadership of Governor Michael Dukakis. During her tenure, Laurie has advocated for the needs of state employees and the surrounding community, requesting additional space in the Transportation Building so TCC can expand its services. Her efforts have resulted in the opening of our full-day Pre-Kindergarten program in 1992, Junior Preschool classroom, and most, recently, the Infant Program in November 2018.

TCC now provides care for 78 children ages 3 months through 5 years. Laurie has successfully led the team through several NAEYC accreditations; the current five-year term lasts through December 2022. She earned her Bachelor's Degree in Early Childhood and Elementary Education from the University of Massachusetts Amherst and is DEEC Director certified and certified to teach early education through 8th grade. Before working at TCC, Laurie served as the first director of the Early Learning Center at the Boys and Girls Club in Nashua, New Hampshire, for five years.
Laurie grew up in Massachusetts and has resided in New Hampshire for more than 30 years. She and her husband, Gary, raised three children who attended TCC. "I feel TCC played an important role in the people they are today," she says of her own children.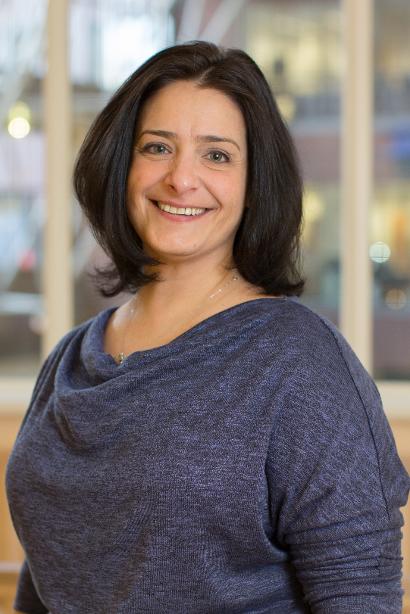 Assistant Executive Director Elise Green has been working at TCC since May 1995. She began her TCC journey as an intern in our Pre-Kindergarten classroom in October 1994 and was hired after graduation to join our Toddler Two classroom. After nurturing two-year-olds for three years, she was then promoted to head teacher of Preschool One, where she taught three- to four-year-old children for the next three years. Elise moved into her current administrative role in January 2000. Her responsibilities include meeting with, guiding, and orientating families through the enrollment process; and providing supervision for staff throughout the Center. Elise particularly works very closely with the staff during the NAEYC accreditation process.
Elise earned her Associate's Degree in Early Childhood Education at Bay State College and her Bachelor's Degree in Human Services from Fisher College. She is excited to support the skills and enthusiasm of new early childhood educators. Elise has taught in both Bay State's and Fisher's early childhood programs and has supervised students completing their internships for early child programs throughout the city.

She is the proud mom of Hudson, a TCC alum. They enjoy visiting museums, hiking, kayaking, and spending quality time with family.
Amelia Martin has been TCC's administrative assistant since 2016. A Boston native and graduate of Boston Public Schools, she holds a Bachelor's Degree in Small Business Management with a concentration in Human Resources Management from Newbury College.
Amelia has worked with children in public and charter schools, as well as in Head Start and Early Head Start programs. She is the proud mother of Deborah Danna Mae, who is currently enrolled at TCC.

A floral enthusiast, Amelia enjoys spending time with her family, painting, baking, and crossword puzzles. She also appreciates various genres of music, including jazz, rhythm and blues, soca, and classic rock.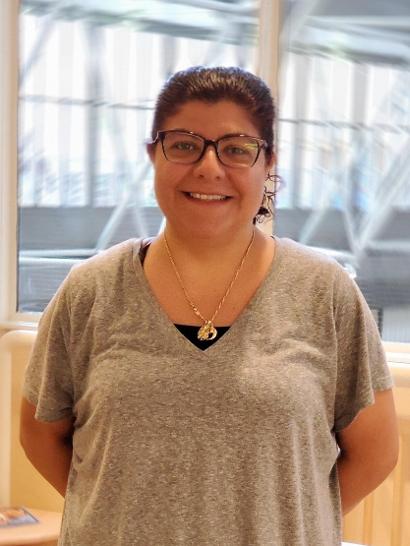 Patrizia (Patty) Brancato is a lead Infant Teacher in the Infant One classroom and began working at TCC in February 2002. She has worked with children for over 20 years. Patty first began at TCC as a Toddler Two teacher, before joining the Pre-K classroom. She then opened our Junior Preschool classroom, where she was lead teacher for several years before becoming the lead teacher in Toddler One. She left for two years and worked as a pre-K teacher. Patty missed TCC so much, though, that when the Center had an opening in the Infant Program, she jumped at the chance.

She has an Associate's Degree in Early Childhood Education from Bay State College, as well as a Bachelor's Degree in Multidisciplinary Education from Cambridge College. Patty loves working with children of all age groups, although infants are her passion!

She is always looking to learn more and strives to further her experience and knowledge in the field of education.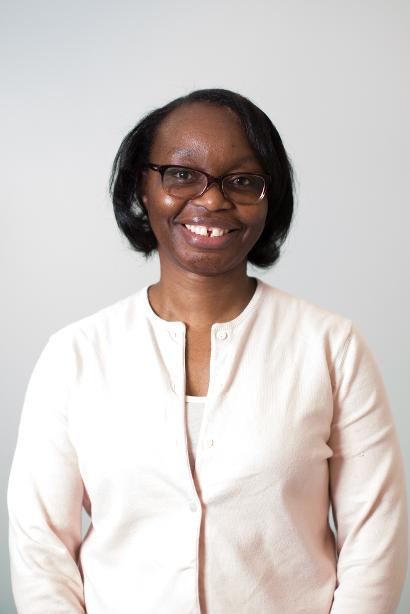 Opal Edwards is a lead Infant teacher in the Infant two classroom and has worked at TCC since 2000. She earned a Bachelor of Science in Natural Sciences from Southern Nazarene University in Bethany, Oklahoma. In addition, Opal has completed several early childhood education courses at Bay State College and Urban College and is DEEC Infant-Toddler Lead Teacher certified. She was a toddler teacher for 18+ years, more than 16 of which were here at TCC.

When our Infant Program opened in 2018, Opal was promoted to her current position and began her next chapter at TCC. She enjoys working with children and watching them grow and learn through play and social interactions, and strives to provide a warm, nurturing, and positive learning environment.

Originally from Owen's Grove, Liberia, Opal has a wonderful husband and is the proud mother of three adorable girls.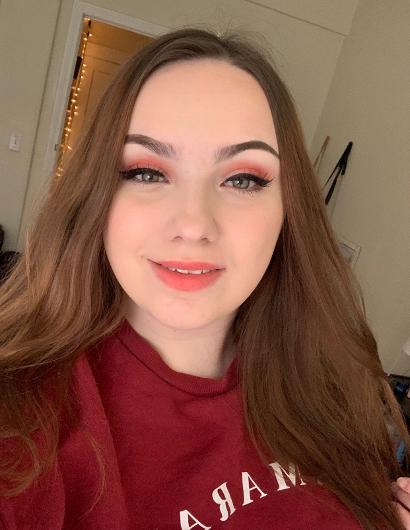 Rebecca (Becca) Windle is an Infant One teacher who joined TCC in September 2020.
Becca grew up in Massachusetts and has been working with children for 7 years. She earned her Infant/Toddler and Preschool teaching EEC certifications through interning and theory opportunities at a technical high school. Becca enjoys children of all ages but especially loves watching the littlest babies grow. Outside of work I love playing board games with my friends.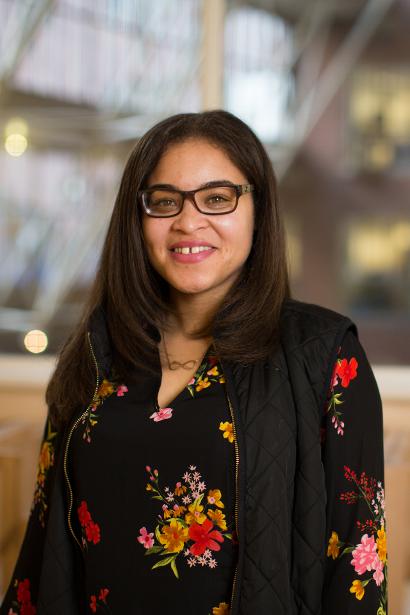 DaLisa Costa has been an Infant teacher in Infant onesince the Infant Program opened in November 2018. She has over 5 years' experience working with young children. DaLisa earned her Associate's Degree in Early Childhood Education from Roxbury Community College in 2019. She plans to pursue her Bachelor's Degree in Elementary Education at Springfield College.

Growing up as the oldest of four children on her dad's side and the youngest child on her mom's side, DaLisa has always wanted to be a teacher. Helping children grow and develop brings a smile to her face.

She is happy to work with the infants and be part of the TCC family.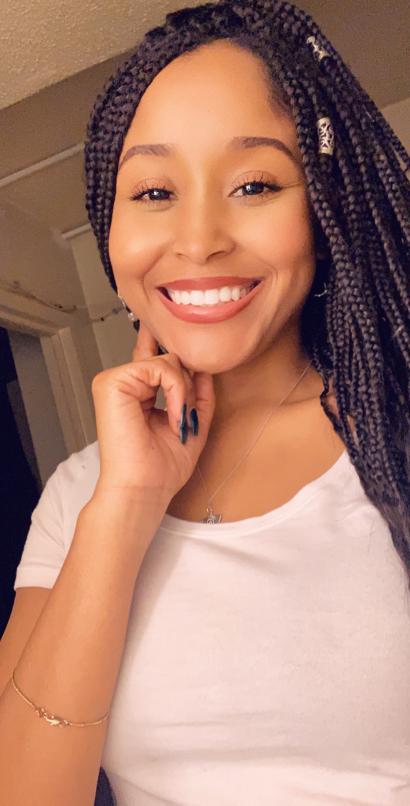 Maroline Robinson is an Infant teacher in the Infant one classroom since August 2019. A Cambridge native and resident for most of her life, she graduated from Cambridge Rindge and Latin High School. Maroline received her Bachelor's in Psychology with a minor in Early Childhood Education from Mount Ida College.

Before joining TCC, she worked at KinderCare, MIT's David H. Koch Childcare Center, and A Place to Grow, to name a few. She also babysits for families occasionally. An only child, she is obsessed with cats (especially her own), Halloween, and fall in general.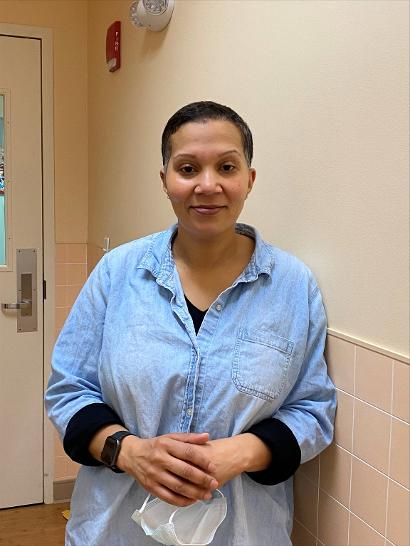 Gilda Teixeira is an Infant two teacher, who joined TCC in October 2020. Gilda earned her Infant/Toddler certification through Early Education and Care. Gilda grew up in Boston and attended both Boston public and private schools. Gilda came from a very big family and babysat almost everyone in her family. Gilda has always loved kids and enjoys working with the infant at TCC. Gilda loves singing and playing with them and loves to see them learn new things.
Gilda has two wonderful kids and she can't wait to see what the future holds for them.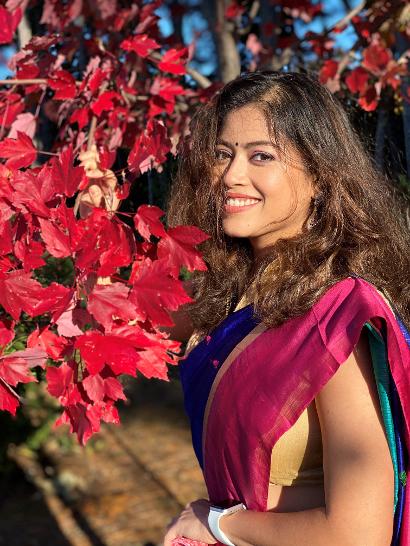 Riya Ghanti is an Infant Two teacher who joined TCC in November 2020. Riya has a Masters in Education and got her EEC certification from Fisher College in Boston. Riya has 2 years of experience in child care . Previously Riya had experience working with preschoolers and infants too. Riya likes to work with any age group as she likes to watch them grow. Riya likes to help the children learn and achieve their all-around goals and development.
Riya is from India and Riya and her husband moved to Boston five years ago from North Carolina. They are the proud parents of their 3 year old daughter, Enaya, who is currently enrolled in preschool one at TCC.
Riya loves to travel and explore new places...likes art and crafts and also loves to cook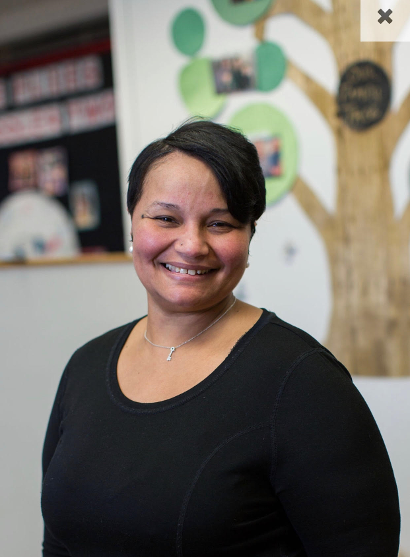 Antonia Teixeira has been a teacher in Toddler One since 2005. She is EEC teacher certified. Antonia enjoys teaching toddlers new things every day by preparing different hands-on activities to broaden their minds. She helps the children learn to walk, talk, start being independent, and be prepared for Toddler Two. Plus, she always tries to make parents feel comfortable leaving their children in her hands every day.

Antonia is a mother of three daughters: Nalani, Anissa, and Imani. Anissa and Imani both attended TCC, as did Antonia's granddaughter Olivia.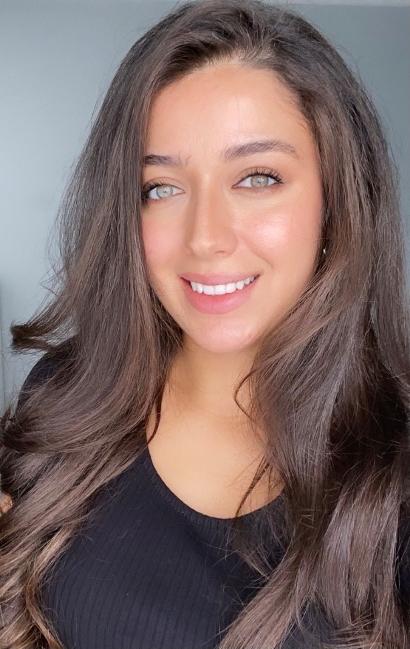 Marouana Benaoum is a Toddler One Teacher Assistant who started at TCC in August 2020. Mari graduated in 2015 with a bachelor's degree in judicial law. Mari has been working with toddlers for five years. Before joining TCC, Mari worked as a nanny and at MIT's David H. Koch center childcare center. Her goal is to give the children a loving and safe environment to play and learn!
Mari is thrilled to have the opportunity to work with children and is so happy to be a part of TCC community!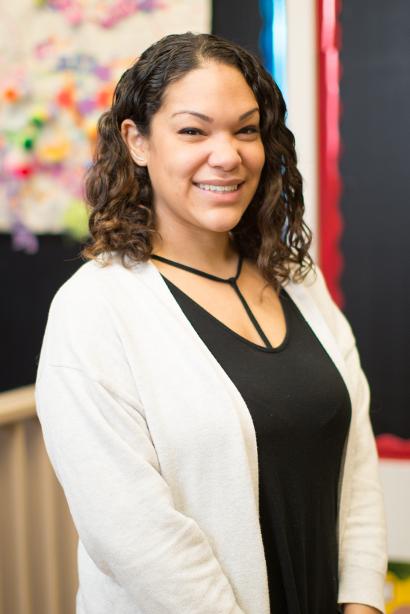 Lucia Ancillo is the leader teacher in Toddler Two. She has taught at TCC since 2011, working with both toddlers and preschoolers. Lucia earned her Associate's Degree in Early Education from Fisher College and is DEEC Infant-Toddler- Preschool Lead Teacher certified.

Lucia has been in the early education field her whole life, and fondly remembers going to daycare as a little girl. Lucia has always had a love for children and got her first job at a daycare when she was 16, working with preschoolers.

She has three boys of her own. As a mother and as a teacher, she understands and appreciates the trust parents place in her to care for their children just as well as they do.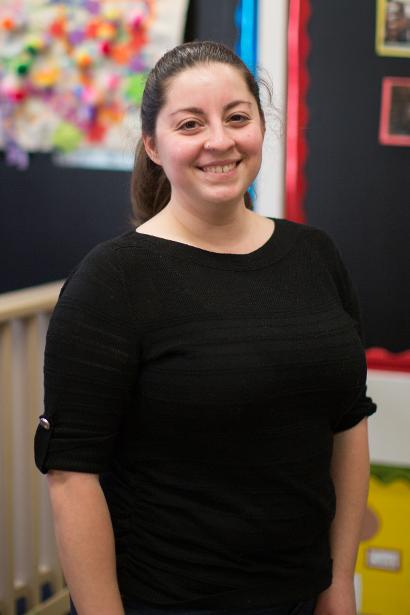 Melissa Magee is a Toddler Two teacher. She began working at TCC in February 2019. Melissa has her Associate's Degree inEarly Childhood Education from Bunker Hill Community College and is DEEC Infant-Toddler-Preschool teacher certified. She has worked in the field of educating young children for over 8 years.
Melissa has worked with all age groups, but especially enjoys working with older toddlers-especially on messy art activities.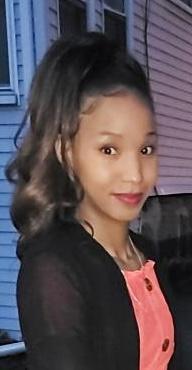 Bernadohte Louis is a Toddler Two teacher.Bernadohte earned her Bachelors of Science degree at Becker College in Exercise Science and minored in health sciences. Berna is EEC Infant-Toddler teacher qualified and has over 5 years experiences as a toddler Teacher and loves every second of it. She was born and raised in Boston, Massachusetts. Berna has always been a people's person even though she says she is a bit shy. She loves to be one of many individuals to have a positive impact in people's lives. "This is why I chose to be a Toddler Teacher.Seeing my students learn and grow keeps a smile on my face, their enthusiasm and energy motivates me to continue to progress. Walking in the building every morning is like coming home from work when I see my babies. I am happy to be part of the TCC family. I love seeing the smile and happiness in the children's face while enjoying our arts and crafts activities. Love when a light bulb comes on after reviewing the information the know. Love when they get messy with paint on their smocks. It's all about learning, having fun, and growing."
Berna is a mother of two beautiful boys who are her lifetime happiness. "They bring so much excitement in my life. They are so adventurous and brave. They keep my imagination going by trying different things. This is one of the reasons why I love being a Toddler Teacher."
Berna likes to travel with her fiancé and children as well as loves roller skate, dance, look at the night views or the sunset to sunrise as well as going for long walks with family by the lake.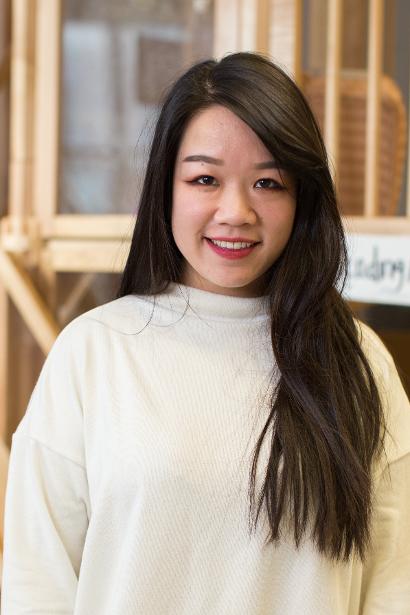 Jenny Wu is the lead teacher in Junior Preschool who began in 2017.. She joined TCC as a preschool teacher in 2017 after completing two internships here (one semester in Pre-K, another in Preschool One). Jenny holds a Bachelor's Degree in Early Childhood Education and Preschool Teaching from UMass Boston and is DEEC Lead Teacher Preschool certified.

She enjoys working with children and is particularly interested in building strong trust-based relationships with them. Jenny has a passion for helping young children and watching them learn, achieve, and grow. She loves to be super dramatic with the children because we all love to have fun. One of the highlights that nurtures Jenny's love of teaching is hearing the hilarious and honest conversations the children have with their friends every day.

Outside of school, Jenny loves to be in the city and explore, try new restaurants, and take photographs.
Elica Teixeira is a Junior Preschool teacher. She has had the privilege of being part of the TCC family since 2017. After spending a year teaching in China, she was excited to expand her role at TCC. Together with a team of amazing and creative teachers, she provides a nurturing and loving environment—one in which children can learn and experience new challenges that help build their confidence while they play.

Elica is a 2014 Northeastern University alumna, with a degree in Art and Design. Her background has allowed her to have the best job in the world: teaching and inspiring children to learn about their world through the lens of art. She looks forward to continuing to have a positive impact on children's growth and to making new discoveries.

Working with all the children at TCC brings Elica great joy, and she values her role supporting moms and dads in their parenting journey!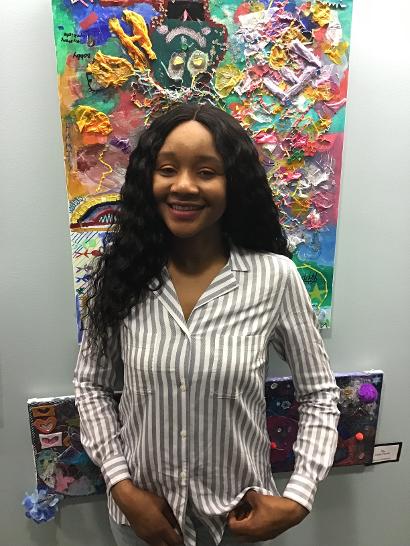 Asta Sheriff has been a Junior Preschool teacher since January 2020. She has over 8 years of experience in the child care field and prides herself on being a patient, kind, and caring teacher who's committed to helping children grow and be happy. Her experience includes working with infants, toddlers, and preschoolers. She is DEEC Infant-Toddler-Preschool Lead Teacher certified, and has an Associate of Science degree in Early Childhood Studies from Bunker Hill Community College and a Bachelor of Arts in Early Intervention from UMass Boston.

Asta went into teaching because she finds joy in witnessing children learn new things and knowing she helped them reach these milestones. Seeing the satisfaction on their faces as they accomplish new tasks makes coming to work every day worthwhile for her. Asta enjoys every aspect of teaching, but the realization that kids can teach us as much as we teach them is her favorite thing about the field.

In her spare time, she likes to cook, take pictures, spend time with family and friends, and play with her daughter, Batouly. She feels very privileged to join TCC's amazing teaching team and looks forward to many more years here.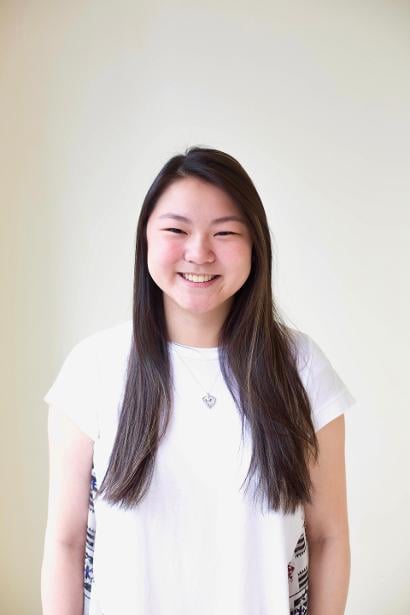 Chloe Kwan is a Junior Preschool Teacher who began working at TCC in January 2020. Chloe was born and raised in Hong Kong and moved to Boston to attend Northeastern University in 2015. Chloe graduated with a Bachelor's degree in Psychology in August 2020 and currently in the process of applying to graduate school focusing on special education. Chloe started as a Northeastern co-op float teacher's assistant in January 2020, Chloe was hired as a teacher in our toddler two classroom in September 2020 and is and now a junior preschool teacher.
Chloe enjoys coming to work everyday and having conversations with the children in JP as well as having dance parties with them! Chloe's favorite moment at school is when the children scream her name in excitement when she walks through the door in the mornings! Chloe is so grateful for her time so far at TCC and is looking forward to more! In Chloe's free time, Chloe enjoys watching a lot of basketball on TV, spending time with friends and facetime with her family who live in Hong Kong.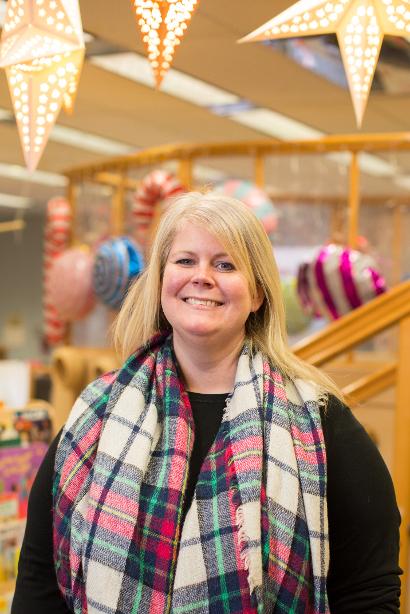 Brooke Wamanga is the lead Preschool One teacher and curriculum coordinator who began in 2002. Brooke began her career in early childhood education in 1998 and joined the TCC family in 2002. Brooke is a Lesley College graduate with a Bachelor of Science in Early Childhood Education and Human Development. She enjoys creating beautiful and interesting learning spaces where children and families feel at home, and which helps promote student-led learning through play and discovery. She also enjoys spending time working in the garden and cooking with the children.
As curriculum advisor Brooke works with the administration and teaching teams to create classroom environments and curricula that reflects TCC's philosophy and values.
Outside of work Brooke enjoys spending time with her husband and two children (both TCC alumni). She looks forward to warm days and spending time at the beach.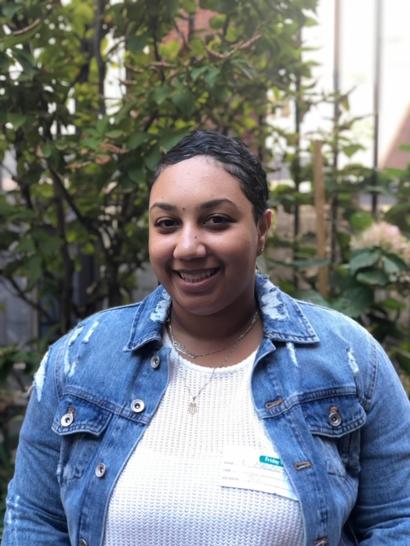 Liliana Carvalho has been a Preschool One teacher since September 2019. She majored in Early Childhood Education in high school, completing practica in various public schools and graduating teacher certified. She continued her studies at Fisher College, where she completed one of her internships in TCC's Preschool One classroom. Liliana earned her Associate's Degree in Early Childhood Education and graduated DEEC Infant-Toddler-Preschool Lead Teacher certified.

She took her knowledge and experiences across the country to California, where she was a live-in nanny for 4 years. When a position opened at TCC, she decided to get back into the ECE setting and returned home.

Liliana is very happy to be back in Boston and in the very preschool classroom where it all started for her.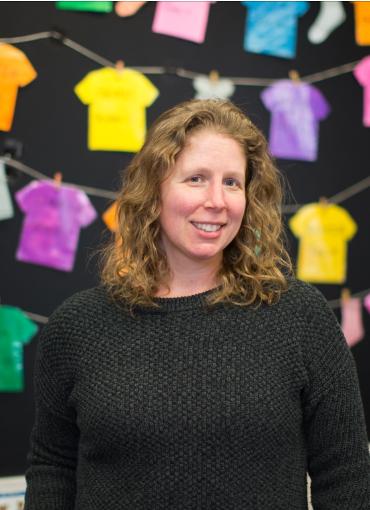 Jen Leone is the lead Pre-K teacher and has worked at TCC since 2005. She has a Bachelor's Degree in Psychology/Sociology from Pennsylvania State University, has taken many classes in early childhood education since graduating, and is DEEC Preschool Teacher certified.

Two of Jen's favorite things about her pre-K students are their brutal honesty and developing senses of humor. Outside of work Jen loves rooting for all of Boston's sports teams and going to as many games as possible.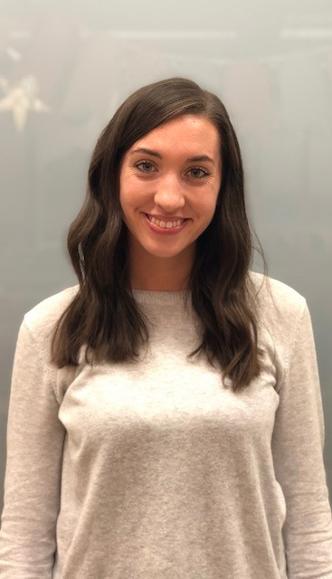 Caroline Haskell has been a Pre-K teacher since September 2019. She has her Bachelor's Degree in Early Education and Care in Inclusive Settings from UMass Boston and began her time at TCC by student teaching in the Preschool One classroom in January 2019.

Before joining the Pre-K team, she worked as a nanny to two young boys for six years. This experience shaped both who she is as a person and as an educator. She hopes to make sure that every child who comes through her classroom feels listened to, valued, and cared for.

Caroline's primary goals as an early childhood educator include instilling in children a love of literature so that reading is a joyful experience rather than a chore; encouraging children's natural curiosity about the world around them, and helping them explore and make sense of it on their own terms; and helping develop children's social skills so they can work, play, create, and problem-solve in collaborative and effective ways.

Above all, she believes in teaching young children to feel for others, but to think for themselves.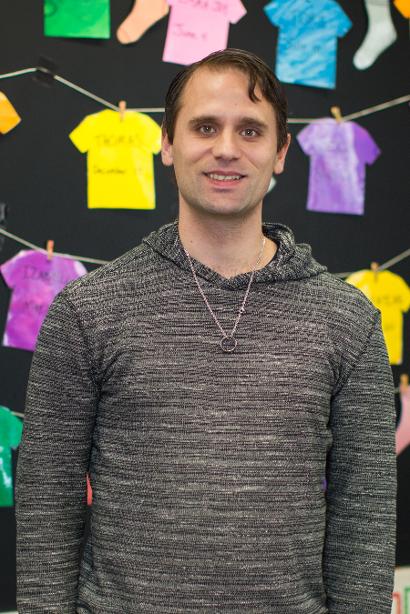 Teddy Kokorus is our education consultant. Before assuming this role, Teddy worked for 17 years as our lead Pre-k teacher. He also taught Early Education courses at UMass Boston and Fisher College, Bay State College, and Lesley University. He attained his Associate's Degree in Early Education at Bay State College; Bachelor's in Sociology at UMass Boston; Masters in Education with a focus on language and literacy at Harvard Graduate School of Education; Post Master's Certificate in Early Childhood Education Research, Practice and Policy from UMass Boston; and is currently working on his PhD in Education at Lesley College